About Us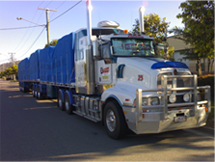 MISSION STATEMENT
Our aim is to provide a professional cost efficient service to you the customer no matter how great or small the task. To deliver an on time exact service so supply is not interrupted weather its one load or five hundred each delivery on time and intact. To give you the customer the satisfaction of one phone call to Aboods and your transport task is taken care of.
WHAT WE DO
Our Staff will ensure that all projects are handled in a professional and efficient manner in:
Planning
Supervision
Facilitation
Of all your transport requirements.
We are successful in performing time sensitive contract commitments. We are able to provide qualified, dedicated company operators and equipment suitable to the task to ensure customer satisfaction and legislative compliance on an ongoing basis. CLICK HERE TO FIND OUT MORE ABOUT OUR SERVICES
HISTORY
Aboods Crane Trucks was established in July 1993 by Tony Abood second generation of the Aboods Transport Family from Sydney .The Aboods have been involved in transport since the early 1940`s, they pioneered many of the early routes from capital cities to regional and country centres, they were one of the first to get Semi trailers loaded with building supplies for the Kidman Cattle stations in the early 1950,s to Birdsville via the Simpson desert.
Growing up and working in this transport environment gave Tony a real understanding of what it takes to supply a service which is both professional and efficient.
In 1988 Tony moved from Sydney to Tweed, working in the local construction industry delivering building supplies. It was during this time he saw the need for a Semi-Crane Truck on the Tweed – Gold Coast area.
July 1993 the first truck is put into service, many of those customers we initialy worked for in those early days are still with us today, 17 years later!
Over the past 17 years Aboods have grown from a one truck operation to a fleet of over 60 different pieces of equipment. We have put into service different types of Trucks and trailers to suit our growing customer's needs and now operate Australia Wide.